Learn More about Bodylines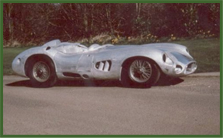 Established in March 1988, Bodylines was formed by Alan Pointer. With fifteen years of experience gained working with luxury car manufacturers, Alan used the expertise he developed working as a panel beater for Rolls Royce Motors and Aston Martin Lagonda to broaden his horizons and begin working independently.
As a self-employed panel beater, Alan began on his own in the classic car restoration business, using his experience of hand-forming car body panels to develop his craft, before forming Bodylines. This was the perfect opportunity to work with a wider range of customers, and employ fellow panel beaters to help the business to grow.
With a team of newly-qualified panel beaters who had learnt their trade with Aston Martin, Alan helped to develop these new employees into master craftsmen, whilst also developing his business. Bodylines had the resources and expertise to work on almost every type of hand built classic car, and although Aston Martins have always been our speciality, our workshop has long been home to many other exotic names from the world of prestige motoring.
Working on some of the finest, rarest and, often, the most valuable vehicles in the world, we always strive to produce results of the very highest quality. Thanks to the expertise and experience of the Bodylines team, you can enjoy classically high standards of workmanship in every restoration project that we complete.
Why not get in touch today to learn more? Rest assured that we are as passionate about classic cars as you are, so call today to chat to our team to discuss the services that we can provide.
Contact Us
If you would like more information on all of our panel beating services. Please feel free to contact us using our contact form.